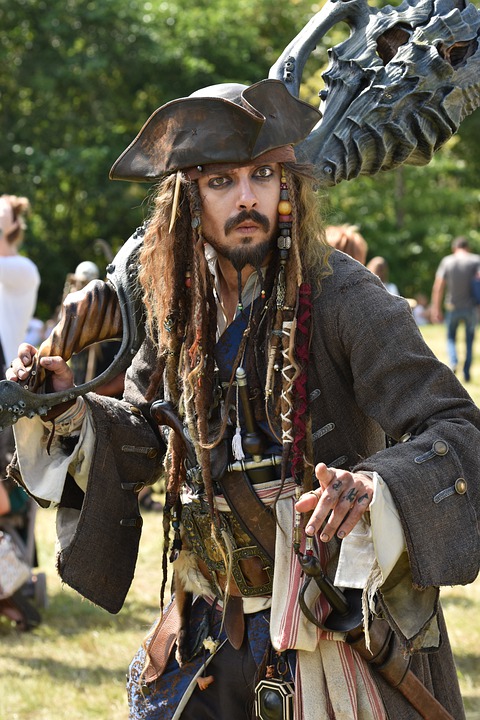 Ever since my "kid" watched Pirates of the Caribbean, Johnny Depp might have earned himself a new fan, but I can't seem to keep him from grabbing all pirate-related stuff whenever we go for shopping. So, for now, I've decided to quench his "pirate thirst" with a pirate costume.
Note: The "kid" is my 30-year-old hubby!
Let's Start With the Basics
Choose Whether You Want to Be the Man or Woman Costume
If you're a woman, you'll probably want to be a female pirate, and vice versa, but it's entirely up to you. Many female pirate depictions are quite inappropriate; if that's not what you're looking for, consider simply girling up a male pirate's outfit.
Look For a Pirate Image
This can help guide your pirate costume creation, but it is by no means required. It's likely to be useful if there's something unusual or fascinating about a particular pirate's costume that you'd like to imitate.
Making the Pirate Top: Start With a T-Shirt
Choose a large white t-shirt that you don't mind changing. Your pirate crew top does not need to be as fancy as that of the pirate captain or long-term senior pirate crew. A simple t-shirt will suffice. A larger shirt is best for conveying the idea of rugged sloppiness that all good pirates strive for.
Begin Sculpting
You've been at sea for several months. Even if you don't want to pretend to have scurvy, you can make it appear that you're a little worse for wear.
To give the impression of ruggedness, cut areas of the t-shirt:
Cut the sleeves' ends in a jagged fashion.
Remove the t-bottom. shirt's Hems are unnecessary for pirates.
Using Fabric Paint, Create Blue Stripes Across the Shirt
Draw lines around the sleeves as well. These don't have to be perfect––the more rustic they appear, the better.
Allow the paint to dry before flipping the t-shirt over and repeating the process.
Making a Pirate Top: Using a Shirt
Choose a Suitable Shirt
If you'd rather wear a shirt than a t-shirt, that's also acceptable, especially if you're attempting to be a pirate captain. It's best to wear a big, billowy white shirt. Look for one with flowing sleeves rather than tight ones.
Get Rid of the Stiff Collar
Pirates don't dress up in stiff business collars. Get rid of it (give it the plank!) by snipping it off and replacing it with a ruffle or similar soft collar. If you don't like sewing, you can probably get away with using fabric glue to attach a ruffle, but make sure the cut area doesn't fray.
Dress It up a Little
Because you're wearing a decent shirt, it's more about upgrading than tearing it up. Consider some of the following additions:
Both the middle and cuffs have fancy buttons.
A collar toggle made of gold or silver chain.
Ruffles! Good day, matey. Ruffles can be added to almost any part of a shirt., including the cuffs, collar, and button line.
Making Pants and a Vest
For a conservative or simple look, wear dark-colored pants. Allow the rest of the costume to speak for itself. No pirate wore floral-printed pants back in the day, so don't be concerned about your pants making a statement.
If It's an Ordinary Pair of Pants
To add a pirate flair to a plain pair of pants, paint stripes on them. Paint on vertical stripes with fabric paint. The color can be matched to your pirate outfit's pants or any other part of it. Maybe you're a member of a pirate gang.
Here's how to make a pirate hat:
Step 1: Once you've taken down the head's measurement, on a piece of paper, draw a pirate's hat shape. Use this as a starting point. If you are unsure, a sample can be found online.
Step 2: Glue or stick the hat together. Run glue or tape around the hat's edges, leaving the base of the hat untouched where your head will go in. If using glue, allow drying.
Step 3: The hat should be painted black. Apply at least two coats and allow to dry. Then, in white, paint on the skull and crossbones design. Again, if you're not particularly artistic, just print this off the internet and glue it on.
Step 4: Make a card band that is the exact size of your head. Make a loop or a circle out of this. Insert this into the hat and secure it with tape or glue. This will aid in keeping the hat shape open and snug on your head.