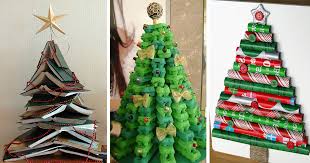 Christmas is here and the season to be creative as hell is open! Turn on your creativity bug and let it be shown in the DIY Christmas trees and decors.
So here are the 11 DIY Christmas Trees where you can make use of your creativity.
Egg Carton Christmas Tree- If you have collected a lot of egg cartons for the day that it will be used, then it is time! Take out the egg cartons and start painting cartons in two different shades of green. Let it rest, then assemble it by aligning together to form an octagon. Place it on a round surface to support the weight properly. Place all the cartons above each other till it forms a pyramid type, add some personalized decorations.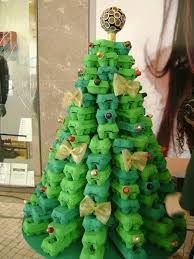 Floating Ornament Christmas Tree- You will need a steamer rack, 5 feet lightweight jack chain, 100 basic ornaments hooks, one roll of monofilament jewelry string, 200 jewelry crimp beads or tubes, 100 lanyard hooks, jewelry crimping tool, 100 ornaments. Take the steamer rack and join the jack chain on four sides, then attach it together in the hook and place it wherever you want. Use the monofilament with crimp tubes to hold the ornaments. Make loops at both ends and attach the ornaments in a continuous row. Keep the lines separate while you're working with them. Fill each line with the ornaments and hang it!

Wrapping Paper Christmas Tree- You will need Christmas theme wrapping paper, glue, foam board or a wood plank, a Popsicle stick, scissors, glitter paint, and garden twine. Cut the wrapping paper and roll them into tubes securing with a few glued spots. Stick them to the foam or wood plank making the wrapping paper roll progressively smaller. Break a Popsicle stick in half and put the halves side by side and wrap them around twine. Make sure that the Popsicle is covered properly and then glue it to under the tree. Decorate the wrapping with glitter and other ornaments if you want to!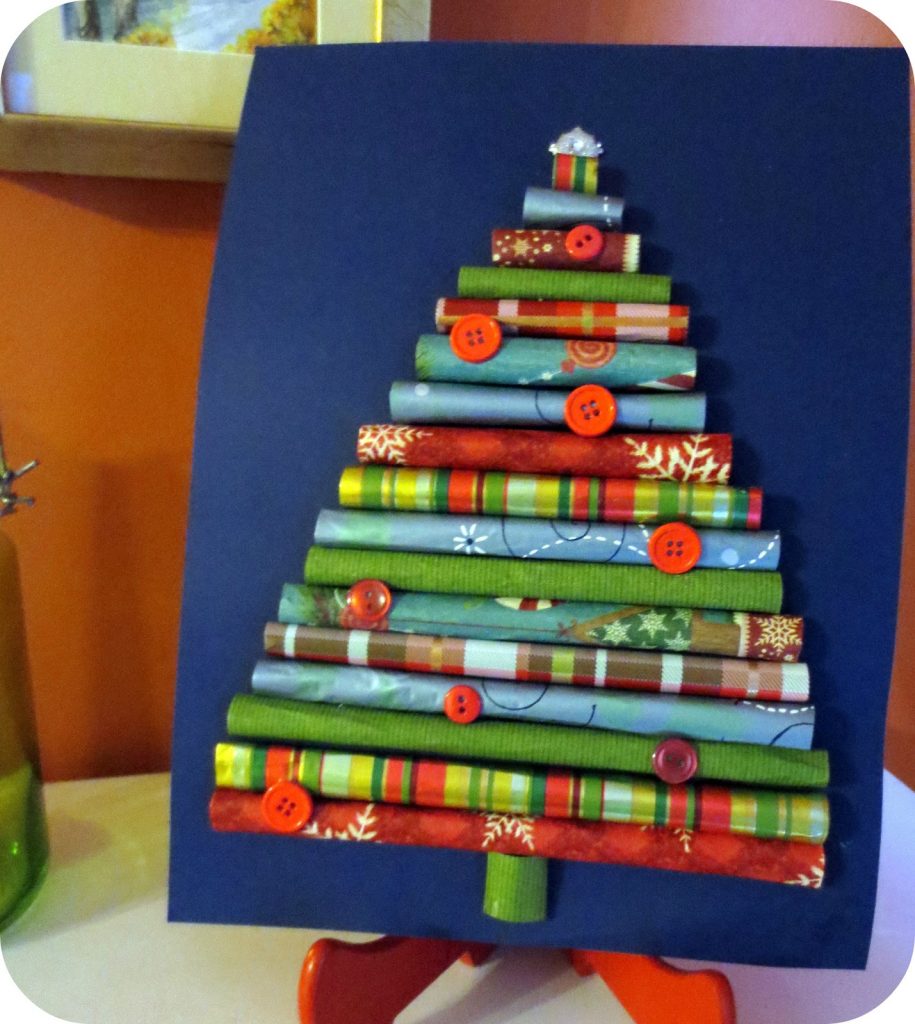 Ladder Christmas Tree- For this, you will need a ladder of a considerable height or a ladder shelf, decorations of your choice and garlands. Position your ladder where you want, it can be against a wall. You can paint the steps white to make the colors pop. Add your chosen ornaments and baubles to make a more traditional look. Adorn it with lights and garlands and voila your Christmas Ladder tree is ready!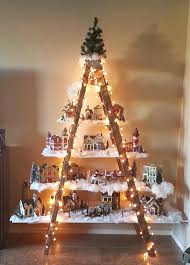 Tripod Christmas Tree- If you are an avid photographer or filmmaker, then this Christmas tree will be perfect for you. You will need your tripod, Christmas decoration, and ornaments. Place your tripod wherever you want and decorate it! Done!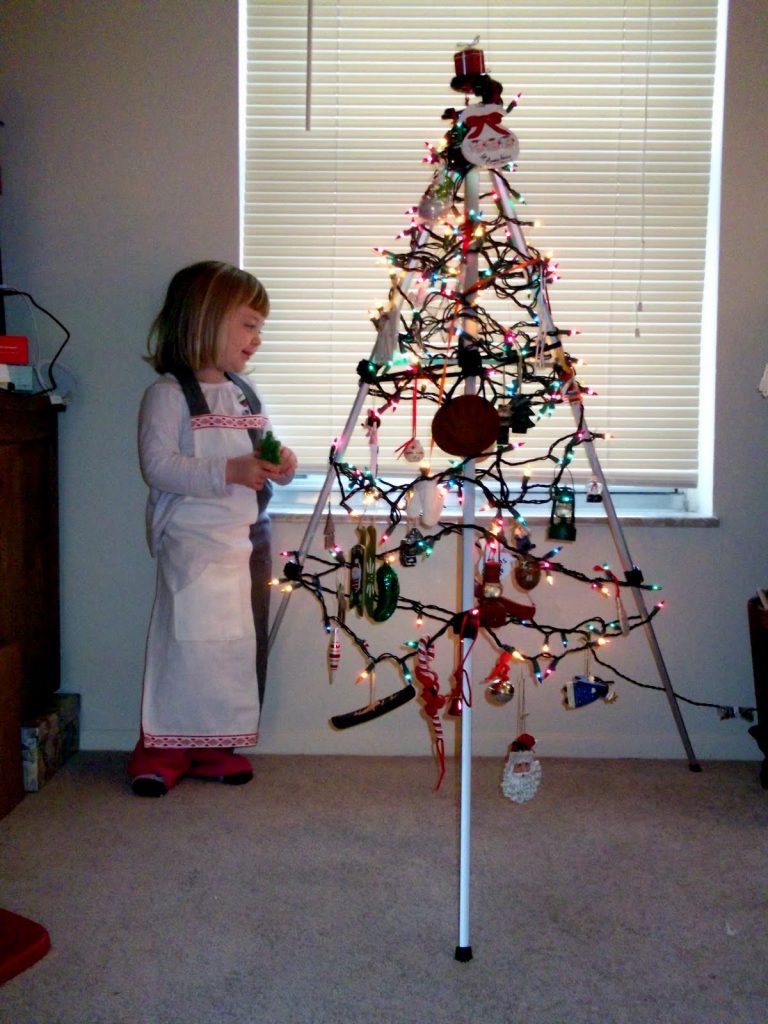 Felt Ball Christmas Tree- You will need Styrofoam cone, wool felt balls around 200, dressmaker's pins, fabric glue. Glue each felt ball to the cone and place a dressmaker's pin through each ball. Allow it to dry for 24 hours and your Christmas tree is ready.

Sticky Notes Christmas Tree- Buy a variety pack of green Post-its, glue, and garlands. Just stick the post-its on a cardboard paper, form a tree and add some brown color post-its on the base. Add garlands and lights to decorate it more!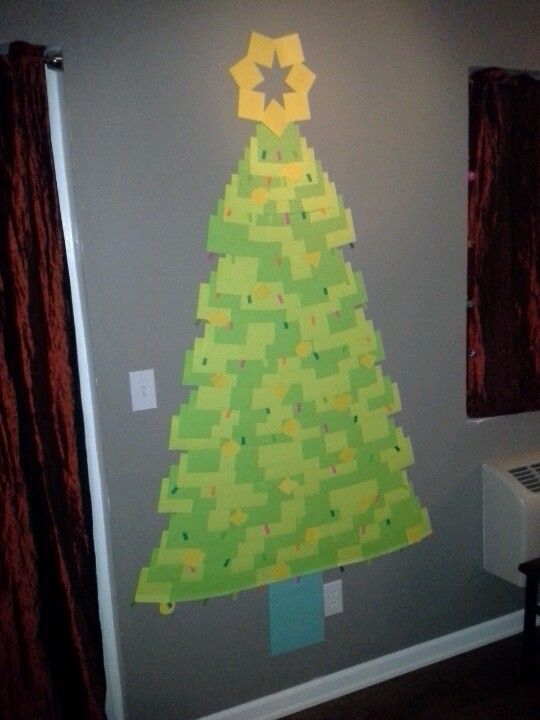 Book Christmas Tree- One of the best Christmas trees ever especially for bookworms! You will need hardcover editions, lights, and ornaments. Place the largest book at the bottom above a small plastic cup. Then keep placing the books open in the middle above one another. Decorate it with Christmas ornaments and garlands. You can also use fresh pines and sand snowman.

Wine Cork Christmas Tree- For this, you will need 150 wine corks, hot glue, battery operated string lights, thin ribbon, a star. Take a large cone made with cardboard paper, glue the corks to the cone in a symmetrical vertical pattern with a little bit of space between each cork. Continue adding the corks to a medium size cone. It should resemble a tree by the end. Add the string lights around it and attach the cork with the help of a thin ribbon. Top it up with a star and your Christmas tree is done!

Dry Wood Christmas Tree- Is your backyard full of dry wood? Then for Christmas, you can use it! You will need at least 40 different sizes of dry woods, ornaments, lights, garden twine, and some nails. Align all the 40 dry woods starting from the longest and ending with the shortest, then attach it with garden twine and repeat. To be sure if the woods are tightly aligned, then hammer some nails on the strongest and longest woods. Add up your personalized decorations. Hang it on the wall with a star made of woods.

Cushion Christmas Tree- Buy cushion of different sizes. Stack them above one another to form a Christmas tree like and adorn it with a star on the top.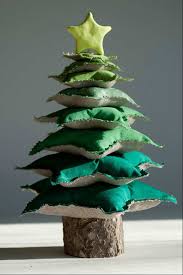 I did the Book Christmas Tree, so what's yours?