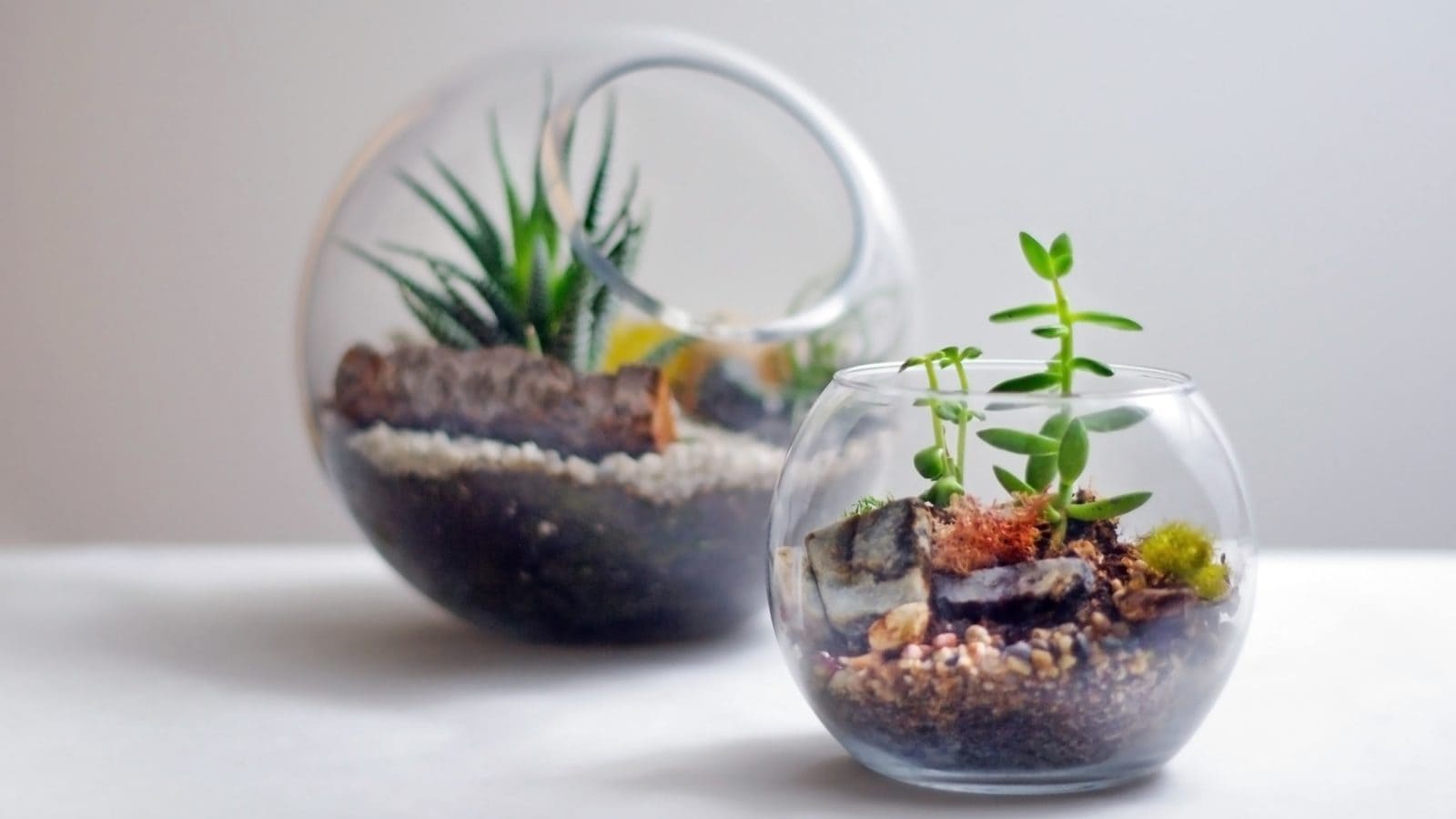 The terrariums have become a "must" for all those who, in addition to being lovers of interior decoration and the do-it-yourself universe, love having plants in the house. Making them is very simple, and above all, they give a lot of play in terms of variety and creativity. Curious? Fantastic, because below are some tutorials to get started step by step and some examples of terrariums to inspire you.

1) A Step by Step Cactus Terrarium
The cacti are ideal for those who are not good at gardening. In other words, for those who are a bit of a mess when it comes to taking care of plants. They hardly need any maintenance and are available in miniatures, which is ideal for a do-it-yourself terrarium. Besides, there is a wide variety of different cacti. To mimic this precisely, you need:
-A round glass container with low walls and a large diameter. For instance, it can be 25 cm in diameter and 12 cm high.
-White gravel, popularly known as pebbles.
-Cactus soil. It is found in gardening and is a composition specially prepared for the needs of cacti and succulents.
-4 or 5 cacti of different varieties.
The terrarium assembly has no mystery; the only thing to consider is the two layers of gravel laid, one as the first layer of the terrarium and another at the end when you have already transplanted the cacti. Gravel helps to filter the water and regulate the soil moisture.

2) Hanging Terrariums With Air Plants
We will change the style with this do-it-yourself terrarium, a different concept than the previous one because it revolves around the artistic and the decorative aspects. The idea is to create several hanging mini terrariums with air plants, a variety as rare as it is fascinating since they do not need soil or water. In nature, air plants grow intertwined, but the impressive thing is that they can also grow on stones, moss, sand, or other dry soil. The roots only serve as support because the nutrients are taken out of the air through their leaves. For these hanging terrariums, you need:
-Hanging glass balls with a front opening, which you can easily find in online stores.
-Decorative grit in 3 different colors.
-A handful of white gravel.
-Dwarf air plants.
-Decorative wire to hang the terrariums.
First, put the colored grit one by one to create different layers. Then add a handful of white gravel and cover it with the air plant. To finish, tie the rope to the crystal balls. Now you can hang your little terrarium!

3) A Closed Terrarium
A closed terrarium? Yes, it is possible, and you can do it yourself. However, these microsystems pose a small-scale biological challenge because they have to maintain the balance on their own. Once assembled and closed, it doesn't need more care than sunlight because the container already provides the necessary humidity; it's perfect next to artificial grass. However, the terrarium should always be kept moist, so if necessary, spray with water. To do this, you will need:
-A glass container that can be closed.
-Gravel of different colors.
-Charcoal.
-Soil for cacti or prepared for terrariums.
-Plants that need moisture.
For this terrarium, the gravel layer's thickness is significant since it will facilitate water drainage and help regulate humidity. Create a generous layer and combine different colors. Lay the soil on top and plant out the seedlings. To finish, water and close the lid. Good luck!
4) Design Also Counts
When it comes to setting up a terrarium to decorate your home indoors, not only the choice of plants and their placement is essential, but also the chosen container. It is a fundamental element for the do-it-yourself project, but we must not forget that it also has a decorative role.
Have you been wanting to make your own terrarium? Now you can do it!