Whether you caught the DIY bug from creating homemade Halloween costumes for your kids, putting together pretty decorated pumpkins, or you're getting crafty for the first time, these homemade Halloween decorations make it easy to trick out your house for the holiday inexpensively — but without looking cheap.
Boo Bottles
Raid your recycling bin to make these glass ghosts in four easy steps: First, remove labels and caps from bottles. Spray-paint them white, then draw faces on with a black marker. To finish this cheap Halloween decoration, throw in colourful straws for cute centrepieces.
Cobweb Coasters
Cups look creepy when sitting on these spindly saucers. To make these DIY Halloween decorations, hook five bobby pins onto a 3/8-inch flat metal washer. Then, wrap twine around and thread through each bobby pin. Spray-paint everything white for that ghoulish look, and scatter small toy spiders around the table.
Vampire Napkin Rings
Serious chompers make your table settings look so cute it's scary. Splash white cloth napkins with red Kool-Aid, thread a white twist tie through a set of plastic vampire teeth and finally secure a twist tie around the center of your napkin.

Ghostly Lanterns
These DIY Halloween decorations are cheap and cheerful. Draw spooky faces on empty, clean gallon milk jugs, then fill with white holiday lights to decorate your porch or walkway with a ghostly Halloween glow.
Wicked Witch Candy Dish
Turn a pair of old heels into cheap Halloween decorations that act as a bewitching candy bowl. Wrap the heels in cheap sparkly paper, then decorate and fill with Halloween treats.
Hanging Bats and Ghosts
Kids can help turn egg cartons into bat decorations; just cut, paint, and add googly eyes. Make cute, cheap Halloween ghosts by painting leaves white, then drawing a spooky face with a marker. Here are some other great Halloween crafts that the kids will love.
Forever Pumpkins
For cheap Halloween decorations that look like jack-o-lantern and will last past Halloween, cover clean, empty jars with orange construction paper or tissue paper. Add features with black construction paper, then pop in a tea candle—with flames, or battery-operated—and watch your "pumpkin" glow.
Bloody Table Runner
Your materials: Gauze, red acrylic paint, and a paintbrush. Dab your paintbrush into the red paint and sporadically brush along the gauze runner. For a truly Dexter-inspired look, swipe some red paint onto Mason jars for candle votives and on plastic cups (add a handprint or two for really gruesome settings).
Candy Corn Garland
Using paint chips in shades of yellow and orange, you can knock out these cheap DIY Halloween decorations—sweet candy corn garland! Another idea: turn the paint cards into mini jack-o-lantern shapes.
Front Door Mummy
Make a ghoulish first impression with this five-minute DIY Halloween decor. First, tape paper streamers to the front door, overlapping the strips to give a wrapped look. Then, cut sheets of black and white construction paper into circles to make eyes. Place the eyes on the top of the door and tape to secure.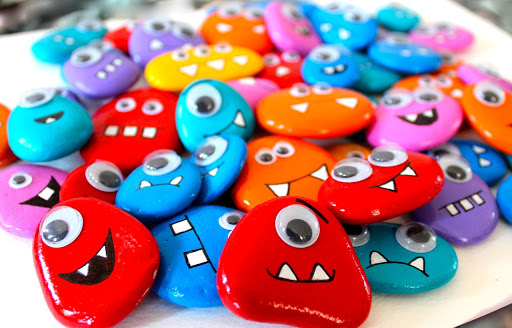 Monster Rocks
If you're in need of really cheap Halloween decorations, look no further than your front yard. Creating Halloween monster rocks is the perfect DIY Halloween decoration if you have young kids too because all you need is paint, googly eyes, and rocks. This project is so easy that you'll finish in no time and have time to binge watch the scariest Halloween movies ever made or get started on your costume.
We hope some of the ideas in this article can help you have a spooktacular holiday! Feel free to share any other ideas in the comments below.