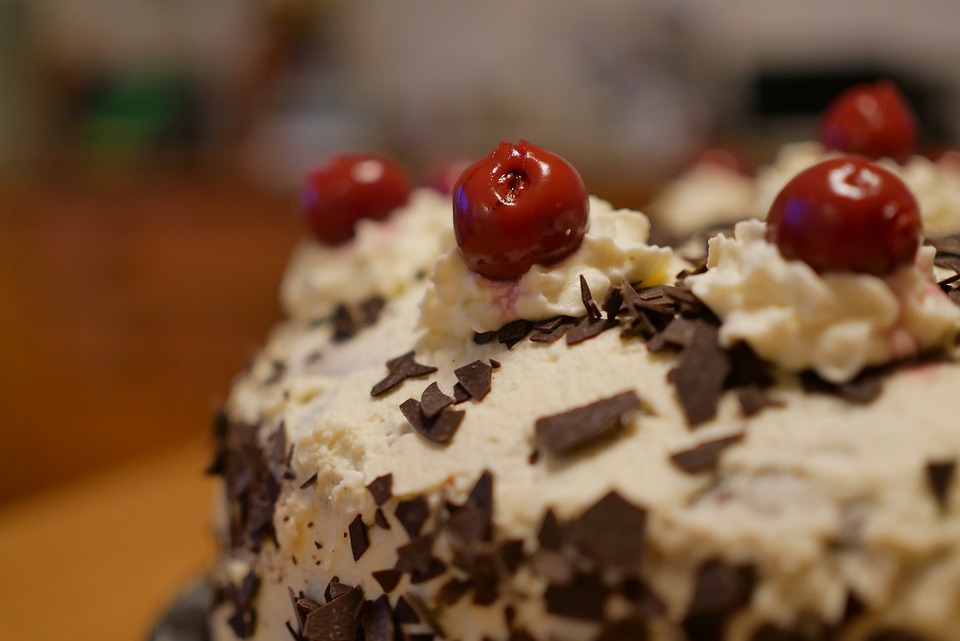 With its soft layers of cocoa interspersed with luscious chantilly cream, sour cherries, a hint of kirsch and topped with dark chocolate flakes for an intense delight; the Black Forest Cake is the pride of Germany's rich confectionery industry and is famous and imitated around the world.
Beautiful, delicious, and truly irresistible, the Black Forest Cake is not too difficult to make:
Simply prepare three slices of cocoa cake in advance.
Whisk in a very fresh and very cold cream, according to the basic recipe.
Add a cherry.
Assemble the dessert.
Unless you have cherries specially jarred for the cake, feel free to opt for sour cherries in syrup or, if in season, a fresh cherry and sugar compote.
And no matter how you prepare it, this cake is a delicious dessert for the eyes and the palate, perfect for celebrating birthdays and other special occasions.
Ingredients:
3 slices of cocoa cake 20 cm in diameter
300 g sour cherries in syrup
600 ml whipping cream
4 tablespoons icing sugar
1 tbsp kirsch
100 g dark chocolate shavings
1/2 vanilla pod
Preparation of Black Forest Cake – Stage 1
Let's move on to the Black Forest Cake recipe for the dessert component. Make 3 slices of cocoa sponge cake in advance using the basic recipe. First, separate the cherries from the syrup. Save the latter, add the kirsch, mix well and set aside. In the bowl of a planetary mixer with a suitable whisk, or in a regular bowl with an electric whisk, whisk together the cream, icing sugar and vanilla seeds. Transfer to a decorating bag with a 15 mm smooth nozzle.
Preparing the Black Forest Cake – Stage 2
Place the first slice of completely cooled cocoa cake on a plate. Brush with cherry syrup and kirsch syrup. Top with whipped cream and add 12 to 15 black cherries.
Preparation of the Black Forest Cake – Stage 3
Place the second sponge cake on top, brush it with syrup and whipped cream, distribute the black cherries, and cover it with the third sponge cake. Next, spread the cream over the entire cake, surface and sides, and distribute dark chocolate shavings. Transfer the remaining whipped cream to a second decorating bag with a 15 mm star nozzle and decorate the entire surface with many small clusters. Top with cherries and refrigerate until ready to serve.
Essential Tips:
You may omit the cherry liqueur (which is traditional) or use a non-alcoholic version. This will also allow you to serve it to kids.
Maraschino cherries or cherry pie filling may be used instead of fresh cherries.
When preparing the cream frosting, keep everything chilled so that the cream will froth better. For instance, put the mixer bowl and whisk in the freezer to chill before starting.
Wear latex food gloves when handling the bark because the heat from your hands will melt the chocolate.
This cake only lasts for a short time because of the whipped cream; we recommend eating it within a day or two and storing it in the refrigerator. Freezing is not recommended.
A black forest cake is relatively easy to make, even though it requires a longer list of ingredients than most cake recipes. If you try it and complete the easy steps, it's totally doable.
Were you aware that March 28 is National Black Forest Cake Day in the United States? This day is considered a delicious food holiday dedicated to Black Forest Cake!
Do you have any other tips for this delicious recipe? Don't hesitate to share it with us in the comments below!