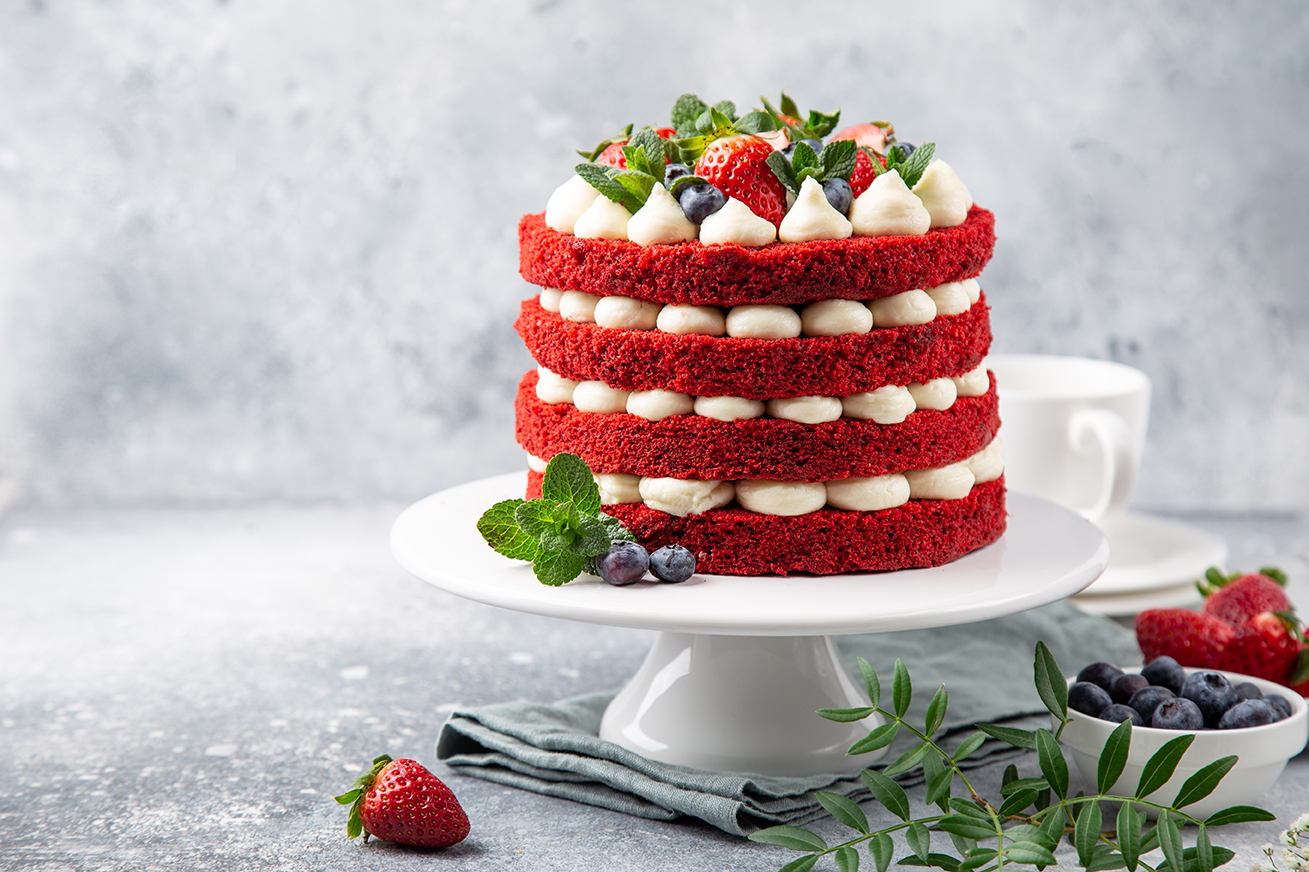 Contrary to popular belief, a red velvet cake is not simply a regular cake with red food coloring. It's a rich, "velvety" dark-chocolate cake with a distinct buttery, chocolaty, and tangy flavor. And I suppose this is why so many people are obsessed with it. Surprisingly, this cake is simple to make. Do you not believe me? Follow the simple steps below to see how simple it is to make a red velvet cake.
Classic Red Velvet Cake
8-10 slices per serving
The following ingredients will be required for the cake:
Approximately 295 g (or 2 and 2/3 cup) of cake flour
Half teaspoon of salt
1 teaspoon baking soda
22 g (or quarter cup) of natural, unsweetened cocoa powder
115 g (or 1/2 cups) softened unsalted butter
1 and 1/3 cups of buttermilk (320 ml) (room temperature)
1 teaspoon of white vinegar, distilled (I know it sounds weird to add vinegar, but trust me on that)
2 tablespoons of pure vanilla extract
350 g (or 1 and 3/4 cups) of granulated sugar
120 milliliters (or 1/2 cups) of vegetable or canola oil
2 large eggs (at room temperature)
1 ounce of bottle liquid red food coloring
You'll need the following ingredients for the cream cheese frosting:
Powdered sugar 360 g (or 3 cups)
175 g (or 34 cups) softened unsalted butter (at room temperature)
One and a half teaspoons of pure vanilla extract
12 ounces brick-style cream cheese
How to Make the Cake?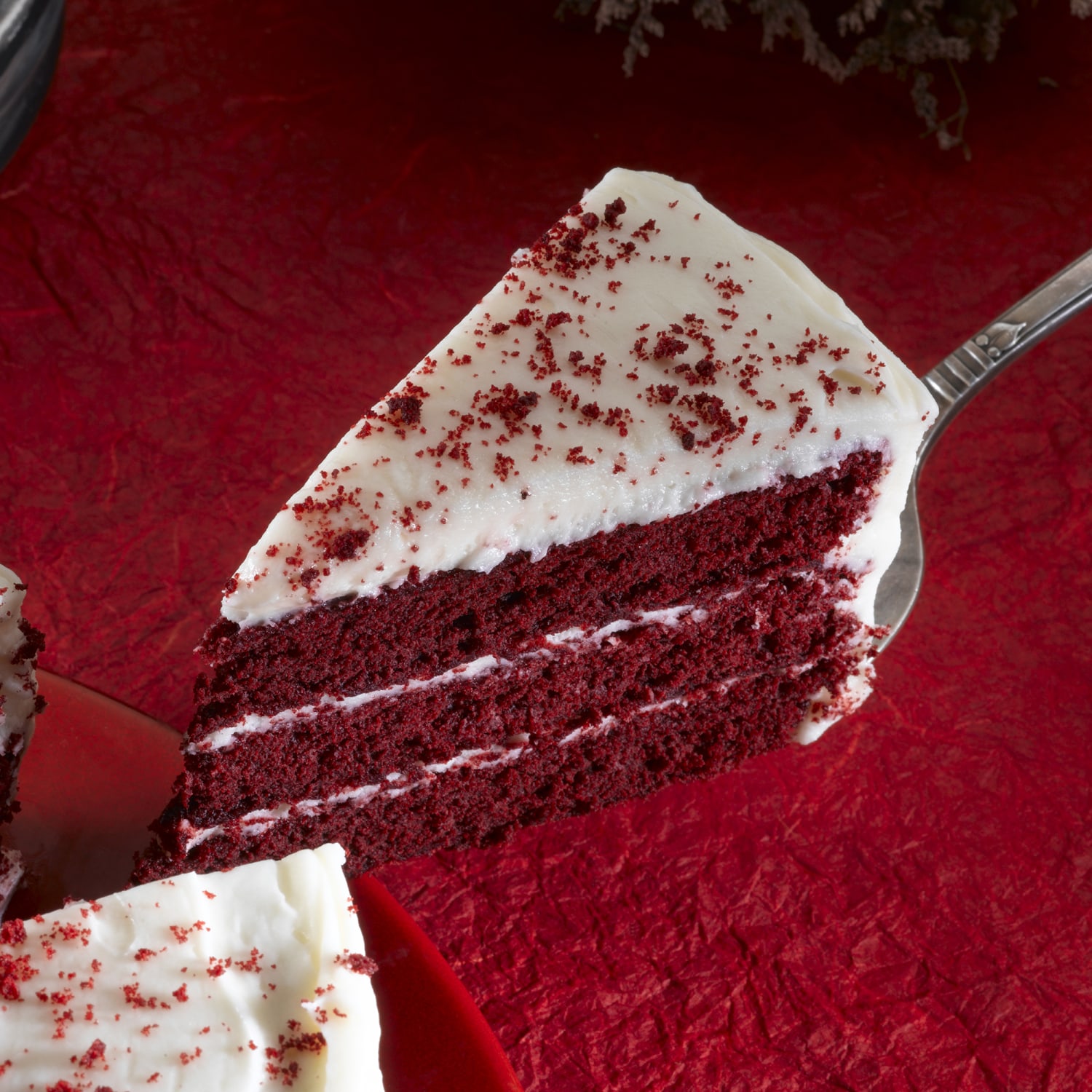 Step 1:
To begin, preheat the oven to 350°F (177°C) and thoroughly coat two cake pans with nonstick cooking spray. Set aside the parchment paper that was used to line the bottoms of the pans.
Step 2:
In a large mixing bowl, combine the dry ingredients (cocoa powder, cake flour, salt, and baking soda). Set aside the mixture after sifting and removing any lumps.
Step 3:
In a separate large mixing bowl, cream the butter and sugar together for about 3-5 minutes on medium speed with an electric mixer. Continue mixing after adding the eggs. After that, stir in the red food coloring, vanilla extract, vinegar, and oil. Also, properly mix.
Step 4:
Add the dry ingredients and buttermilk in three parts, beginning and ending with the dry ingredients. Mix until just combined, taking care not to overmix the batter.
Step 5:
Spread the cake batter evenly between the two prepared cake pans, forming one even layer. To remove any air bubbles, tap the cake pans on the counter 2-3 times.
Step 6:
Bake at 350°F (177°C) for 28-32 minutes, or until a toothpick inserted into the center of the cakes comes out clean. Remove from the oven and cool in the pans for 15-20 minutes on a wire rack. After that, gently remove the cakes from the cake pans and place them on a wire rack to cool completely.
To make the cream cheese frosting, follow these steps:
Step 7:
In the stand mixer's bowl fitted with the paddle attachment, or in a large mixing basin using an electric mixer, cream the cream cheese until smooth. Blend in the butter for 30 seconds to 1 minute, or until completely smooth.
Step 8:
Scrape down the sides of the bowl as needed as you continue to mix in the powdered sugar and vanilla extract.
Assembly instructions for the final cake:
Step 9:
Level the tops of each cake with a knife or cake leveler. Cover one of the cake layers with icing and smooth it out into an even layer on a cake stand or plate. Place the second layer on top, then cover the entire cake with the remaining frosting.
Tips:
Remember, leftover red velvet cake can be stored in an airtight container in the refrigerator for up to 3 days.
Reviews:
"I have experimented with many red velvet cakes and this is the first I have been truly happy with." From Claire
"This recipe is amazing! This is the best red velvet cake and cream cheese frosting I have come across! Such a moist moorish cake and yummy cream cheese frosting to complimenT." From Becky