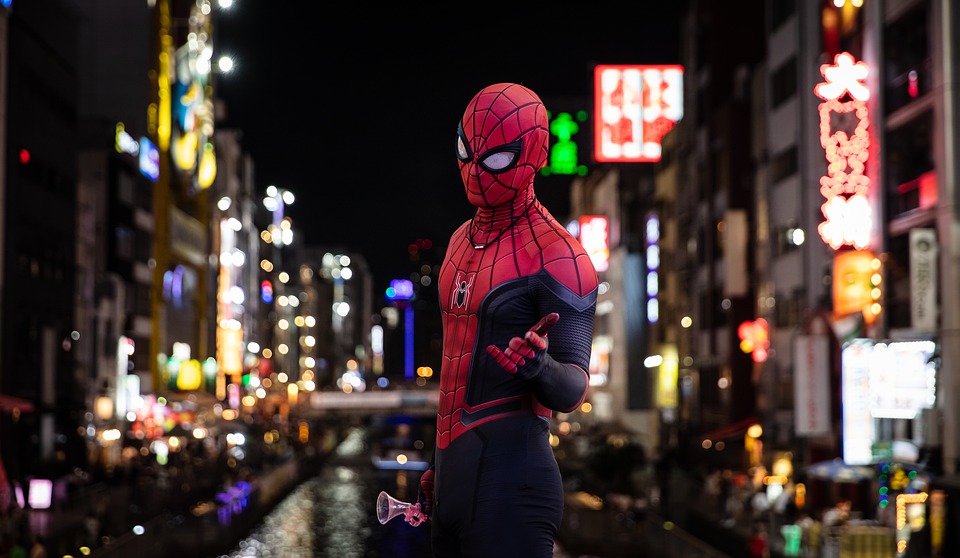 Spiderman is one of the most beloved heroes of the Marvel Universe and everyone loves his web-slinging adventures. However, Tom Holland's plucky and boyish spirit as the new Spiderman has drastically raised this Marvel superhero's popularity. Hence, it is no surprise that many want to create their own replica costume out of simple materials.
Instructions on How To Make a Spiderman Costume:
Step 1 – The Bodysuit: You should start by finding a long-sleeved blue shirt and a pair of blue sweat pants as these items will serve as the base for your costume. I suggest you to find plain garments with no logos, graphics, or patterns. And, if you don't have already have these garments, you can easily find them at thrift stores or consignment shops.
Step 2: The second step includes cutting the sides out of a red t-shirt and placing it over the blue shirt. You cut 2 or 3 inches above the bottom hem of the shirt and guide your scissors inwards about 3 or 5 inches on either side.
Step 3: Now, look for a pair of plain red socks that come up to just below your knees (football stockings would be ideal), as these will copy the look of boots. We suggest you try to match the shade of your outer shirt and other red accessories as best you can.
Step 4: Next, you need to find a pair of elbow-length red gloves. If you don't have such gloves, you can score them at any craft store or costume supply shop.
Step 5 – Adding the webbing and other details: This step includes drawing a spider emblem onto the chest of the red shirt. For this, you will need to use a black permanent marker or black fabric paint pen to trace and fill in a small circle roughly the same size as a quarter. Then, make a black oval or diamond shape right below it and draw 2 legs at the top and bottom of each side of the oval or diamond to complete your design.
Step 6: Now, time to craft your spider emblem from other materials to really make it pop. If you want your spider emblem to be more prominent, another option you can apply is to make it out of black felt, craft foam, construction paper, or poster board. Trace your spider design onto your material of choice, then cut it out and stick it to your shirt using hot glue. But remember if you are making your emblem out of felt, you need to use fabric glue instead of hot glue.
Step 7: To free-hand a webbing pattern on your red costume components is optional. Using a black permanent marker or fabric paint pen, carefully draw a series of parallel vertical lines down each piece's length. Then, you connect the vertical lines with the short horizontal arcing lines. You continue with this pattern until each of your red items is covered.
Step 8: This step is about using puffy fabric paint to give your webbing some added texture. Instead of ordinary fabric paint, you can choose a bottle of black puffy fabric paint as this type of paint is designed to expand slightly as it dries, which will give the webbing pattern on your spider suit a dynamic 3D effect. So, heat-set the paint by lightly steaming it with an iron before you put on your costume for the first time.
Step 9 – The mask: You can put together a simple Spiderman mask using only a red ski mask and a pair of goggles. So, my dear friend, if you want the mask that is featured in the 2019 film Spider-Man: Far From Home, all you need is just to put on the goggles and slip the mask on over your head!
Step 10: However, you can also make your own mask from scratch using a spandex facemask. First, you sketch the shape of the eyepieces onto the mask and cut out the excess material to create the eyeholes. Then, you place a thin piece of white mesh over each eyehole and cut strips of black craft foam to outline them. Afterwards, using hot glue, you stick the craft foam into place with the mesh sandwiched in between. This will hide your eyes while allowing you to see out of the mask.
So, will you follow these instructions to create your own Spiderman costume? Please share your comments!