It's the time of the year where the dropping temperatures and changing leaves are a sure sign that fall has arrived. Fall décor is perfect to give any room in your house that warm and cozy, welcoming feeling. Decorating your house for fall is the perfect time to opt for a sober yet elegant décor that will be amazing for anyone to look at. Choose a specific space that you would want to decorate for this fall, I chose the mantel as it is the perfect area to create a full fall themed display that will set the tone for the rest of the room's décor. Whether you're looking for classic and timeless ideas for the fall fireplace or something more chic and modern, there really is something for everyone.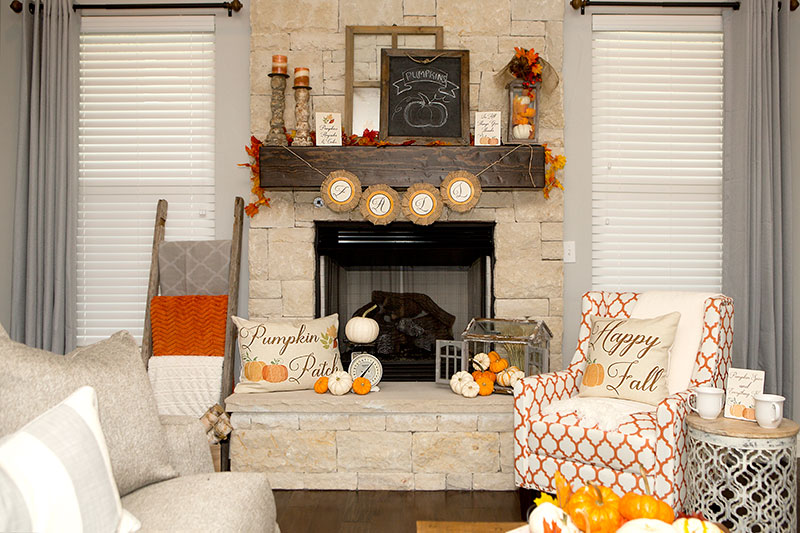 If you are in search of inspiration, then here are five ways to decorate the mantel for this fall.
Go for fall themed garland – for fall décor, the leaves, autumn flowers and arrangements of branches will give off the ultimate fall aesthetic. A garland is a great way to set up your mantel for fall because it can create a base for the rest of the decorations. The mantel is going to look fuller and more festive as the garland is going to have fall leaves, pumpkins and other warm toned flowers such as copper, deep orange, and yellow. Secure your mantel to make sure to have a wall with clear or white removable hooks on the surface that are spaced out evenly. Don't forget the space below your mantel! It is an easy way to add dimension to your fireplace by creating your own hanging garland.
A string of pine cones – Make a simple garland of pine cones to hang on your fireplace. You can anchor it with knots in autumn colors, or pass a burlap ribbon through it for a rustic touch. Here's a bonus: change the fabrics for red, green or metallic colors, and you'll have a festive Christmas or winter decoration in minutes.
Look for a distressed coat surface – If you don't like your mantel, it may be time to replace it. Instead of buying a new shelf and warping the original wood, browse antique dealers and thrift stores looking for old fireplaces that have character and charm. The imperfections of an old fireplace will harmonize perfectly with your fall decorations and make them more beautiful than ever.
Create an S' mores station inside – Prepare a basket of walnuts and place it on your fireplace. Put a fall ribbon around a pretty basket and place marshmallows, graham crackers, chocolate bars, long-handled skewers and oven mitts inside to be ready to make this fire classic when the mood strikes. (With adult supervision for children, of course!).
Making a fireplace that doesn't work a focal point – You have a chimney that doesn't work? You can always make it a warm and comfortable focal point for your home. A simple idea is to fill the fireplace with logs. In addition to respecting the theme of the fireplace, the logs will add texture and depth to the room.
Bring in some warmth into your living room – The general ambiance of the fall décor is warm and welcoming; the idea is to make everyone feel comfortable and cozy inside the house as the weather outside slowly starts to cool down. A bright decor can help diffuse these vibrations with the soft, warm glow it can add to the room.
Using a bright decor at night instead of your main lights in the room will create a calm and relaxing environment. There are many ways to incorporate these warm lights into your living room on your fireplace.