Even seasoned DIYers take a deep breath when considering tackling a bathroom remodeling job. Other than perhaps a kitchen, no project is more involved in terms of the systems and skills involved. Bathroom remodeling is all about plumbing, electrical, and tile work—all highly skilled trades. It's dense, tight work, too, where every square foot counts. And then there are the frequent surprises, such as when you find rotting subfloor and joists below a leaky shower or cast-iron plumbing stacks that have rusted to the point of crumbling. And finally, there is the time pressure. A bathroom is an essential space, and a DIYer is under great pressure to get the room remodeled and back into service as quickly as possible.
The obvious solution is to call in the professionals, whether this means hiring a general contractor to manage the project from start to finish or hiring and managing your subcontractors for each stage of the process. The pros will do the job well and almost certainly faster than you can.
But there's one very important reason why you wouldn't hire professionals to handle your bathroom remodeling job: money.
Costs
DIYers often like to talk about the personal satisfaction that goes with doing the work yourself, but the reality is that saving money is the single biggest reason why people tackle home improvements themselves. The bottom line is a bathroom remodel will generally cost less than half of having a GC do the work. Essentially, you will retain all the materials cost but save the labor costs. That savings will buy a lot of shampoo.
Of course, convenience is its own luxury and one that might be worth paying for. In this case, luxury doesn't mean a spa-like bathroom with Tuscan tile, but the luxury of having someone else do the heavy lifting while you keep your hands clean. There is certainly value to having skilled pros do the work faster, and perhaps better, than you can do it yourself.
The truth is that most DIYers with a moderate amount of experience can do at least the surface remodeling of a bathroom, especially if they use the same contractor-grade materials that pros depend on.
Time
Balanced against the cost savings of doing the work yourself is the brutal reality that DIYers usually take a lot longer to do the work. You can save an incredible amount of time—weeks or months even—by hiring professionals. A busy homeowner squeezing remodeling work into a hectic schedule might take six months to painstakingly remodel a spare bathroom, while the same bathroom can be whipped into shape in a couple of weeks by a contractor and his team.
If you have only one bathroom, you are better off hiring pros. If you have a second bathroom and can afford to have one out of commission for a while, then the DIY option might be more attractive.
Plumbing and Wiring Rough-In
The mechanical systems in a bathroom are subject to all kinds of rules and regulations, and professional plumbers, electricians, and HVAC contractors deal with these issues every day and will know the particulars of local code requirements. Unless you are an experienced home plumber and electrician, it is a good idea to leave the plumbing, wiring, and HVAC rough-in work to professionals.
Flooring
Installing bathroom flooring is relatively simple for the DIYer, and quite easy for certain types of flooring. You gain nothing by having pros take on those easy-install coverings like luxury vinyl planks, for example, which can be done in an evening by a DIYer who has carefully studied the techniques. Hiring a pro to install luxury vinyl is almost unthinkable—the material is that easy to install.
Ceramic and porcelain tile is very often left to professionals, but considering the limited floor space in a bathroom, there is no reason you can't do this yourself, too. It does not take long to learn the basics of tile installation, and you can easily lay a moderate-sized bathroom floor in a weekend.
Wall Surfaces
Professional drywallers will nearly always produce flawless bathroom walls. Even the best DIYer will end up with anomalies that must be conveniently ignored or covered up. Installing moisture-resistant green board in bathrooms isn't all that different from hanging conventional drywall in other areas of the home. Mudding and sanding to a smooth finish are what separates the homeowner from the drywall contractor who does this every day. If you can accept flaws, you can save a small amount of money hanging and finishing your own.
Considering the modest expense, having professionals hang, tape, and mud your drywall may be money well spent. But DIYers can do this work, too, saving a small amount of money.
Cabinets and Countertops
The main advantage of having professionals install cabinets and countertops is the simple convenience. A professional crew of two or three workers can navigate the cabinets into place and mount them quicker and easier than you can do it. But bathrooms don't have a lot of cabinetry, and the countertops are typically short. For the smaller spaces of bathrooms, you'll most likely be buying a bathroom vanity unit in a prescribed width that you can easily handle by yourself. Many come paired with vanity unit tops, making countertop installation a snap.
Shower/Tub Installation
Installing a shower is tough when you're building up your shower pan and covering walls with tile. While you can do this, most people will want to hire pros for this stage. However, installing a prefabricated shower stall may be practical for DIYers. Refinishing your tub/shower yourself can produce acceptable results. Hiring out a glazing company will give you a better finish, mainly because the companies do better prep work. This is often difficult work that is best hired out to pros. DIYers will need patience and plenty of help if they attempt it.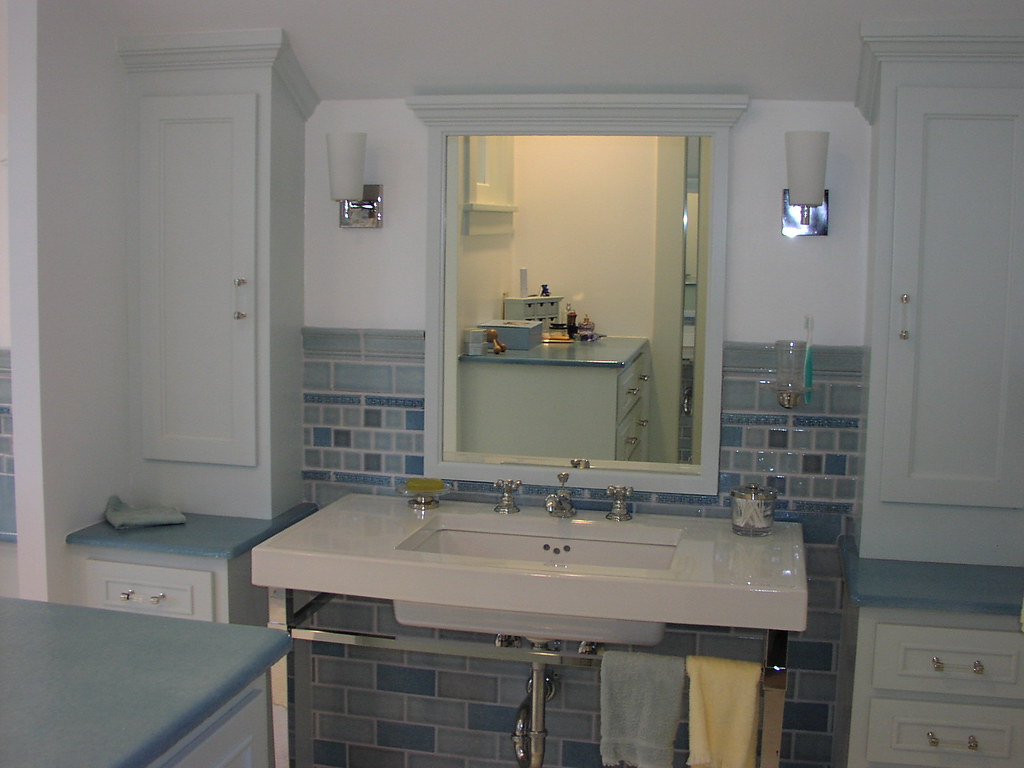 Sink and Faucet Installation
If supply pipes already run to your sink location and a drainpipe runs out, bathroom sink installation is easy. There is no need to have a plumber install your sink. However, if the installation requires moving plumbing lines, then bring in a plumber.
Toilet Installation
Toilets are clumsy and heavy, but they are not hard to install. Unless you are already having a plumber install the other faucets and fixtures, there's no reason you can't install the toilet yourself.
Painting and Trim
Even homeowners hesitant to do-it-themselves for most other remodeling tasks can tackle the painting and trim installation. Hiring painting contractors make sense for large spaces but not for the tiny wall spaces of bathrooms. Hardware, mirrors, and other trim pieces are also fairly easy to install yourself.
Summary
Unless your bathroom is unusually large, you can DIY most of the smaller tasks within this overall project. For core-level bath remodels, many DIYers still hire out electricians and plumbers but do the rest of the work themselves. For surface-level remodels that require no major wiring and plumbing changes, the entire project is within the reach of a DIYer.
But do remember that professional contractors like AtoZ Kitchen & Bath may do the job better and faster than you can. Weigh cost savings against these advantages when making your decision.