Have you ever felt like you do not have space in your home? It is very easy to feel cramped when you start receiving gifts, new furniture and having children. Space is very important whether you have a family or not. Here are some useful Do-It-Yourself storage ideas. The simplest and easiest way to save space is by keeping boxes or containers under other furniture. That space never gets used and what better way to keep toys, books and shoes tucked away. Put wheels on these containers for easier handling.
Artists, children, craftsmen, and project makers always have stationery lying around. These handy home tools also tend to get lost in the depths of drawers or between stacks of paper. To solve this problem, all you need to do is put that stationery inside empty tins. Tins are the most versatile recyclable material and you could decorate them too. You can also keep cooking utensils in tins decorated with a kitchen theme.
Not everyone can afford to create a designer kitchen with brand new storage, so using your DIY skills is something that everyone can try in order to make their kitchen practical for them. If you have spare space in your kitchen but do not know how to utilize it, here are some simple DIY storage ideas for you. There are many ideas for creating storage space in your kitchen, this article will show you how to make the most of what you have, in terms of space and amount of storage you will have. If you think in terms of common sense than it is quite easy to create extra space, by simply adding a wall shelve, and racks you will be amazed at how much storage space you really do have. As you start putting items in their perspective places you will feel a sense of order and instantly know where everything is. This obviously makes your job that much easier when making meals as well as cleaning.
Plate Organizer
For top cabinets which are placed high up in the kitchen, placing a plate rack beneath is a great way of displaying beautiful plates and also saving space in other kitchen cabinets. It is also a very creative storage idea which is easy to construct yourself with dish rack rails and dowels. One of the greatest things about this style of storage is that you can make a bespoke design to fit your own crockery.
Spice Rack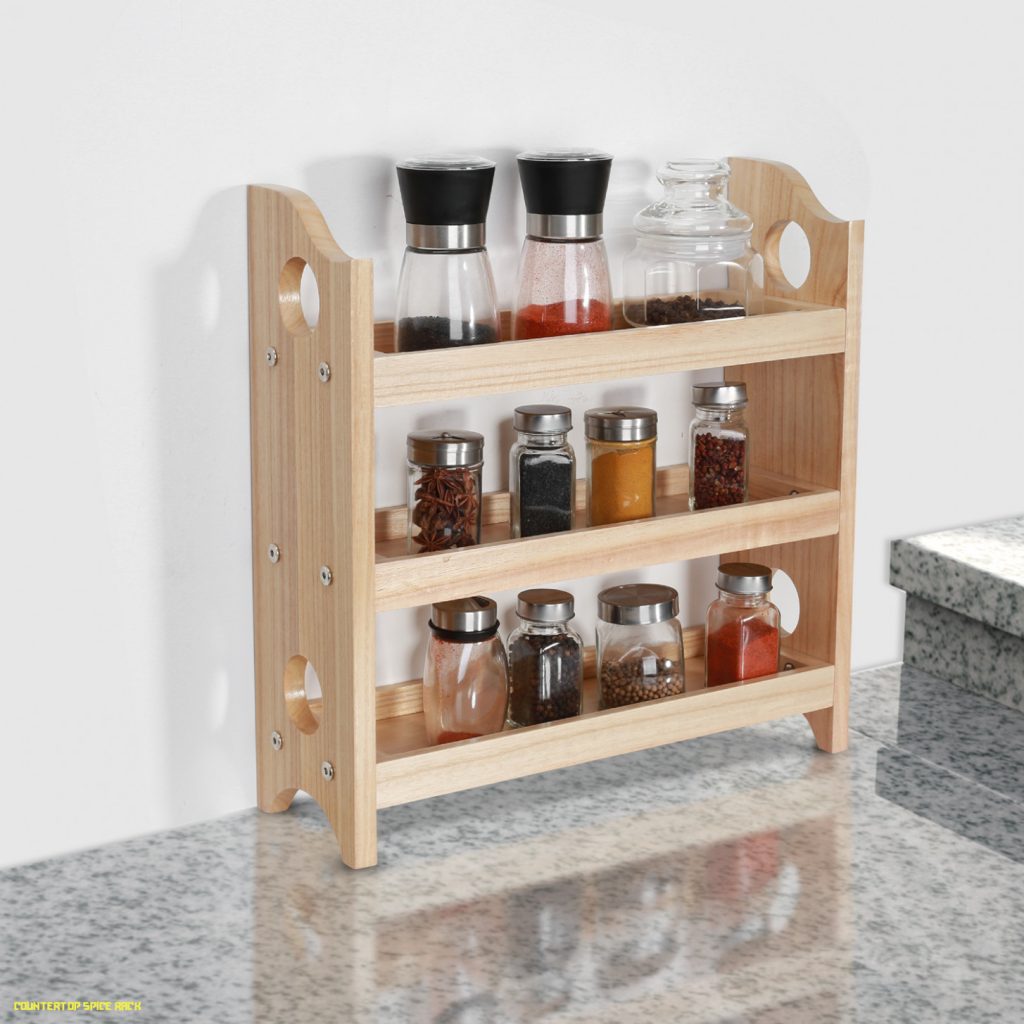 A cabinet that is stuffed with miscellaneous herbs and spices can be very difficult to organize. With sturdy plywood you can either create a spice rack to be hung on the wall in a vacant spot or you can create your own "back of door" racks which sit just inside the cabinets and keep your spices and herbs on clear display.
Under Cabinet Shelves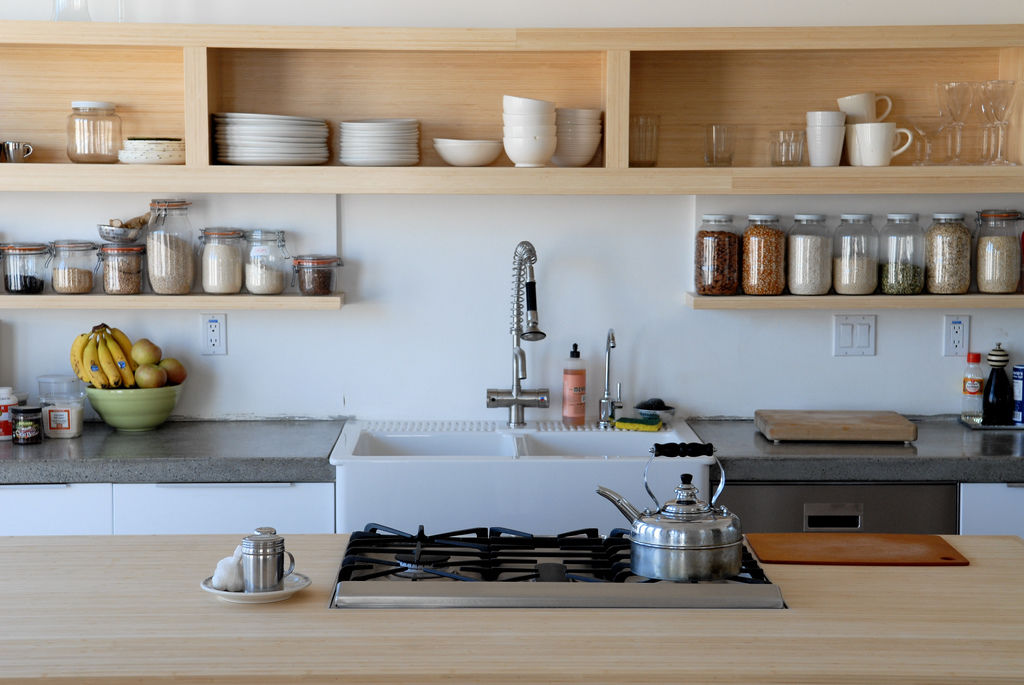 Placing drawers and shelves that are made to measure beneath any existing top cabinets is a great way of filling up any empty space. It is a great way of utilizing unused space but also displaying ingredients such as jars of pasta, rice, oats, flour, dried fruits etc. if you are keen on bakery or cooking. This type of storage can give your kitchen a beautiful country style as well as enhancing the practical side of the kitchen space.
Pot Rack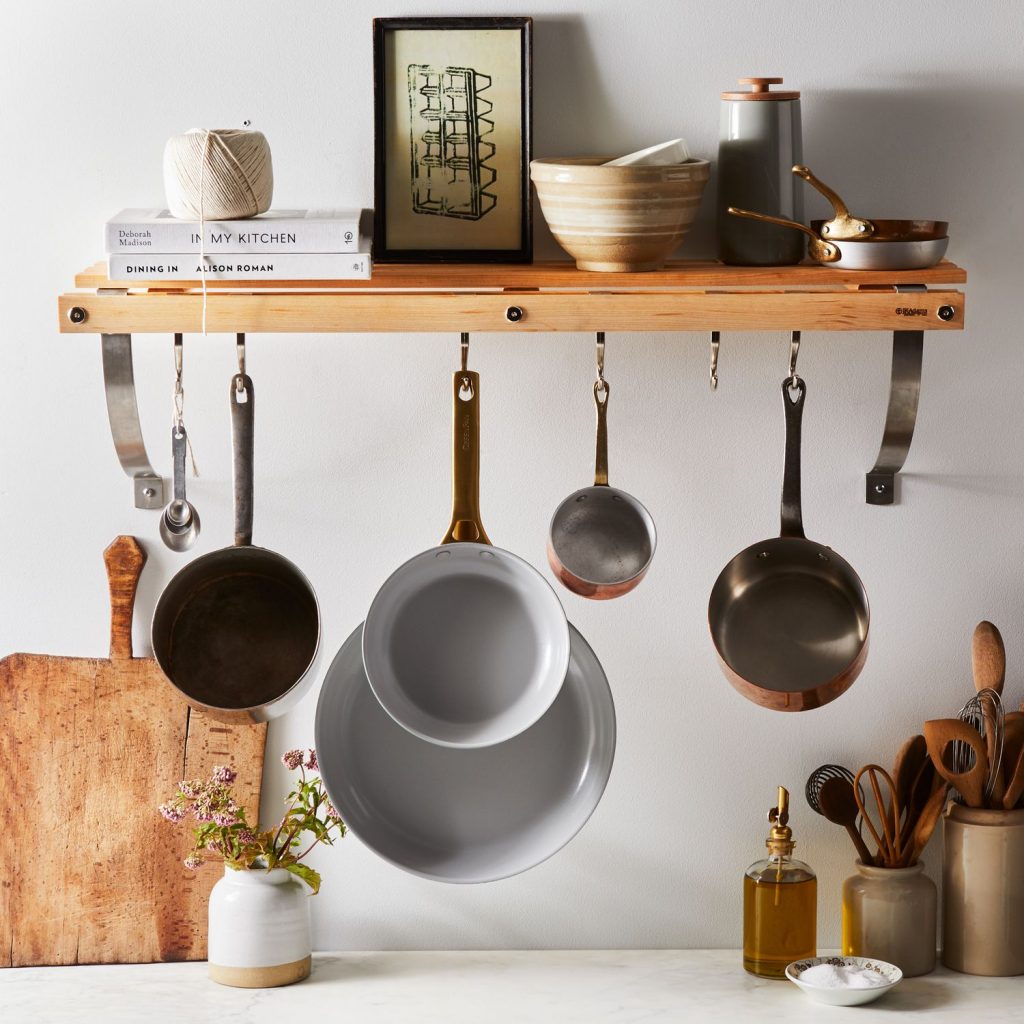 Old fashioned country kitchens will boast huge pot racks above their islands, but if you don't have the ceiling space for one of them you can install a pot rack that hangs over a range cooker or in front of the kitchen window. By using a simple curtain rail and small hooks, you can get easy access to all of your cooking essentials for a much more efficient cooking space.
Panel Cookware Organizer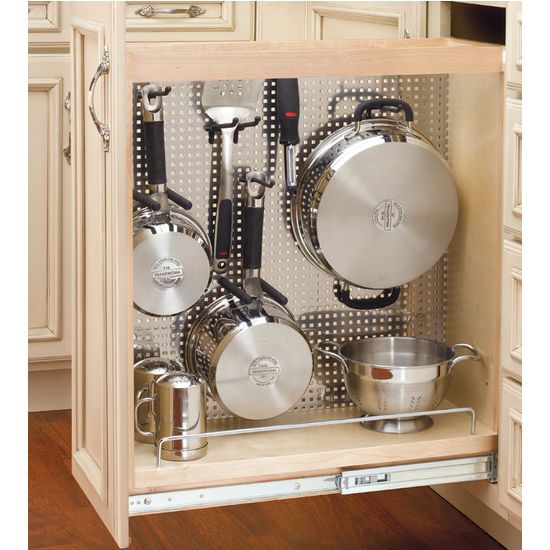 Remove the existing shelves from your kitchen cabinets and revamp the inside of the cupboard to create more effective storage space. By adding a plywood panel at one side of the cupboard, you can place baking trays and other large slim items such as chopping boards at one end of the cabinet. You can then cut down the existing shelf to fit the remaining space and place appliances and pots back inside.
Space-Filling Shelves
When you have a small kitchen, maximizing storage is a good way of making sure that you can keep everything in an easy-to-reach place. If you still have space left over at the end of your kitchen makeover, then you can install shelving in the style of your kitchen to keep appliances and other cookware on display. This is great for not only keeping items safe, but also great for making the most of your space as well as giving the room a real homely feel.
Whether making small changes or big, updating a kitchen is always a worthwhile project. It is one of the rooms in a home that gets the most use. And it is, in a sense, a work room so it should be functional and comfortable. And changes like the trolley or the sliding larder drawers are very practical because they make the room more organized and supplies more accessible. Cookware and baking pans can be kept out of the way when not in use, and ingredients can be stored neatly. And when the kitchen is more convenient to work in, it makes meal preparation and cooking more enjoyable and less of a chore.